I made a photo board for myself and my boyfriend. These are quite easy to make and are a great way to display a whole heap of photos.
My Boyfriend's Photo Board

You will need

Using the ruler and pencil mark the width you want your ribbon or ric rac to be apart on the sides of the canvass
.
Mine were
18cm apart and my boyfriend's were 15cm
, I recommend 15cm as this seems 2 hold the photos alot better (unless of course you are planning on using larger photos).
Start attaching

your ribbon or ric rac to the back of your canvass using the thumb tacks, by making sure they line up with your previously marked widths. Make sure you pull the ribbon as tight as possible. (*HINT: I found it easier to leave the ribbon on the roll and cutting it as I was attaching it with the 2nd thumb tack, rather than cutting lengths, as I found that once I pulled the ribbon tight I didn't need quite as much and hence ended up wasting a lot of ribbon).
Make sure they are criss crossing across the front of your canvass. (*HINT: I found it was also more effective to weave the ribbon in and out of the previously attached ribbons). When you are finished the front of the canvass should look like this.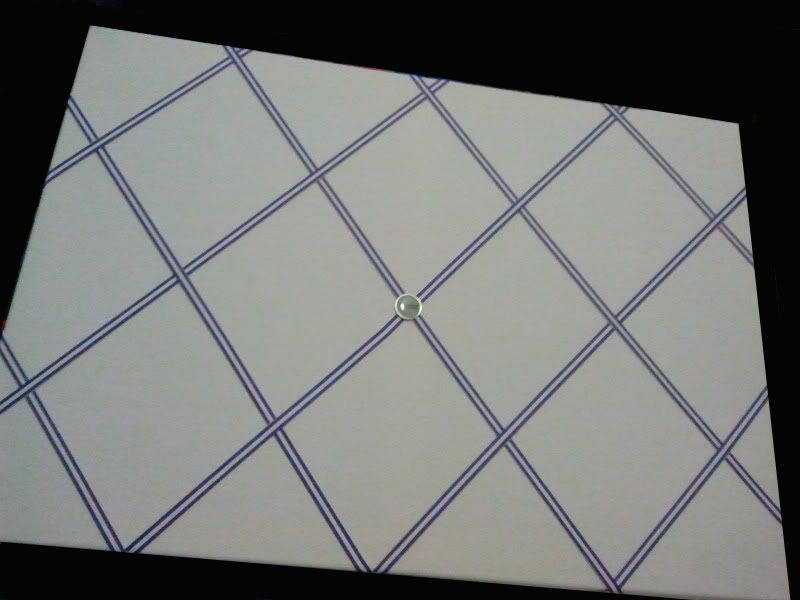 Step 3
So here's the fun part. You need to attach each cross section of ribbon to the canvass with a brad. (*HINT: Whilst making my Boyfriend's I discovered that it was easier to attach the cross sections running down the middle to the central board of wood down the back of the canvass with thumb tacks). To attach the brads you will need to use the hobby knife to make slits in the ribbon cross sections as well as the canvass underneath, so that you can push the brads through. You can use any brads that appeal to you or your theme (as long as they are long enough to go through the ribbons and the canvass), as you can see on my Photo Board I also used a variety of embellishments which I attached to the board with brads.
Step 4
Push your photos and any other memorabilia under the ribbons or ric rac. And there you have it, your own Photo Board. :D